ajila Forms Hub for financial service providers
With our ajila Forms Hub for financial service providers we help you to handle all your online forms, contracts and electronic signatures efficiently and digitally with one solution approach. Up to several thousand PDF documents and contracts become a digital experience for your customers with our Forms Factory approach based on over 20 years of experience.

You are in best company! We have already implemented successful projects for the following customers.
What challenges with forms can we solve?
Download forms and back to paper
When working with your customers, you have a wide variety of forms in use. Depending on the institution, we experience up to several thousand documents. These are offered on various download sites. Often the forms are downloaded, have to be signed on paper and returned again.
Ping-Pong game between customer advisor and customer
Here, too, numerous documents are used. But how can form and contract processes be processed together, carried out digitally and signed electronically?
Forms maintenance and management
With a large number of forms with different language versions, maintenance is a major effort if all documents are considered in isolation. And this although various modules could be managed centrally within the various forms.
Only the relevant information for your clients
In practice, we often experience that customer documents contain countless pieces of information that are not at all relevant for the current business case. This unnecessary information can irritate customers, resulting in misunderstandings, incomplete data entry, and tedious and often manual rework when filling out the forms.
Our solution approach with the ajila Forms Hub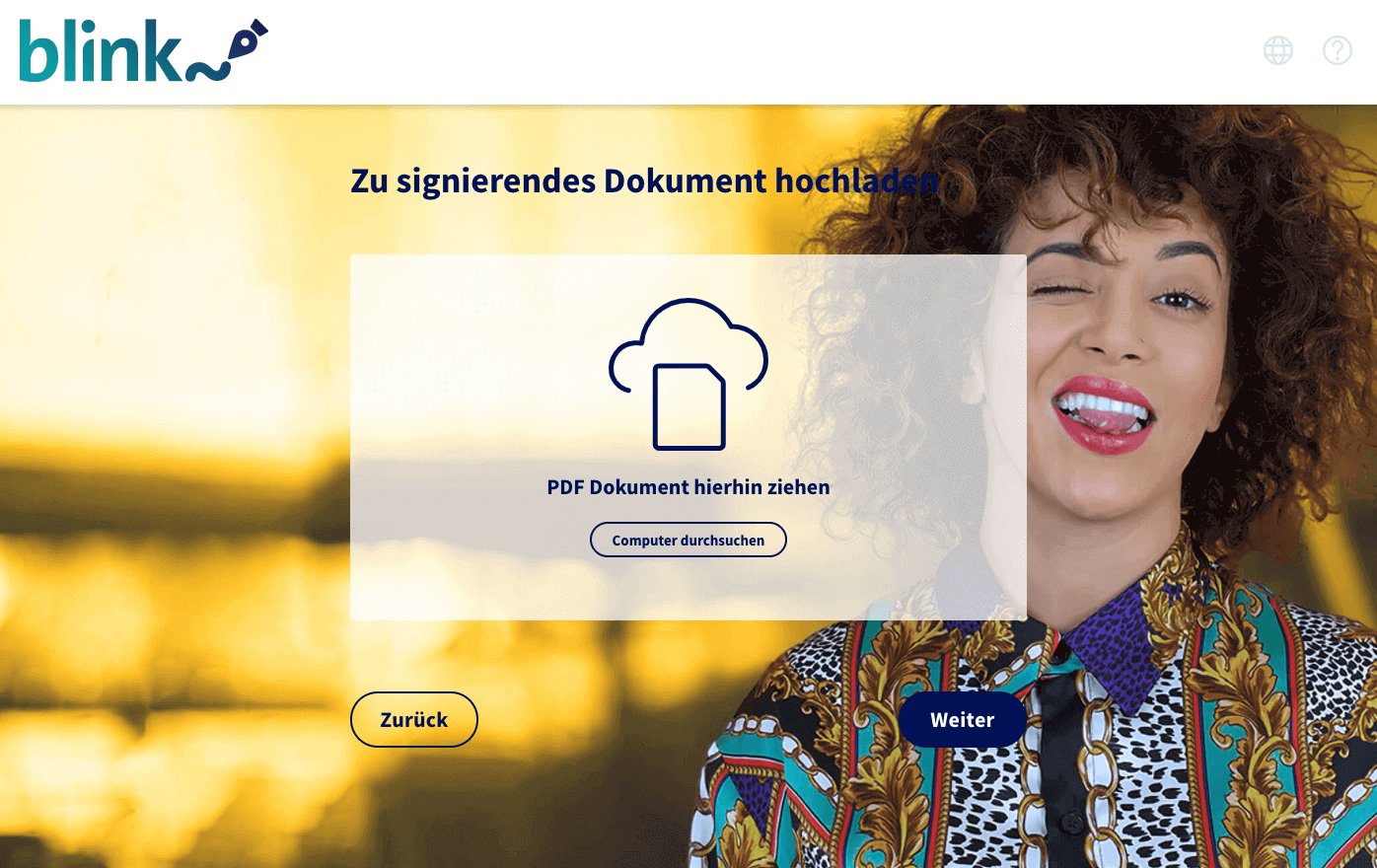 Launch today with our Blink solution for electronic signatures
Thanks to our Blink solution as part of the ajila Forms Hub, existing PDF contracts can now be easily and conveniently signed electronically alone or directly together with customers. Forget tedious and time-consuming paper signature processes. Blink is also designed for Swiss financial institutions in terms of security and data compliance and can be adapted to their individual branding.
Digitization of the entire input and output bank forms with the Digital Deals Forms Factory
Digitizing hundreds or thousands of forms requires a targeted approach, which we have developed and optimized over more than 20 years. The basis for digitizing a large number of forms combined with contracts and customer documents using our Form Factory is provided by completely customizable form modules.
Start form processes directly from your business applications
Form processes such as power of attorney declarations, changes of addresses or customer data, rental deposit account openings and many more can be started at the places where they are needed at the moment. Be it from an internal specialist application via REST API, integrated into the company website or from a sent customer email.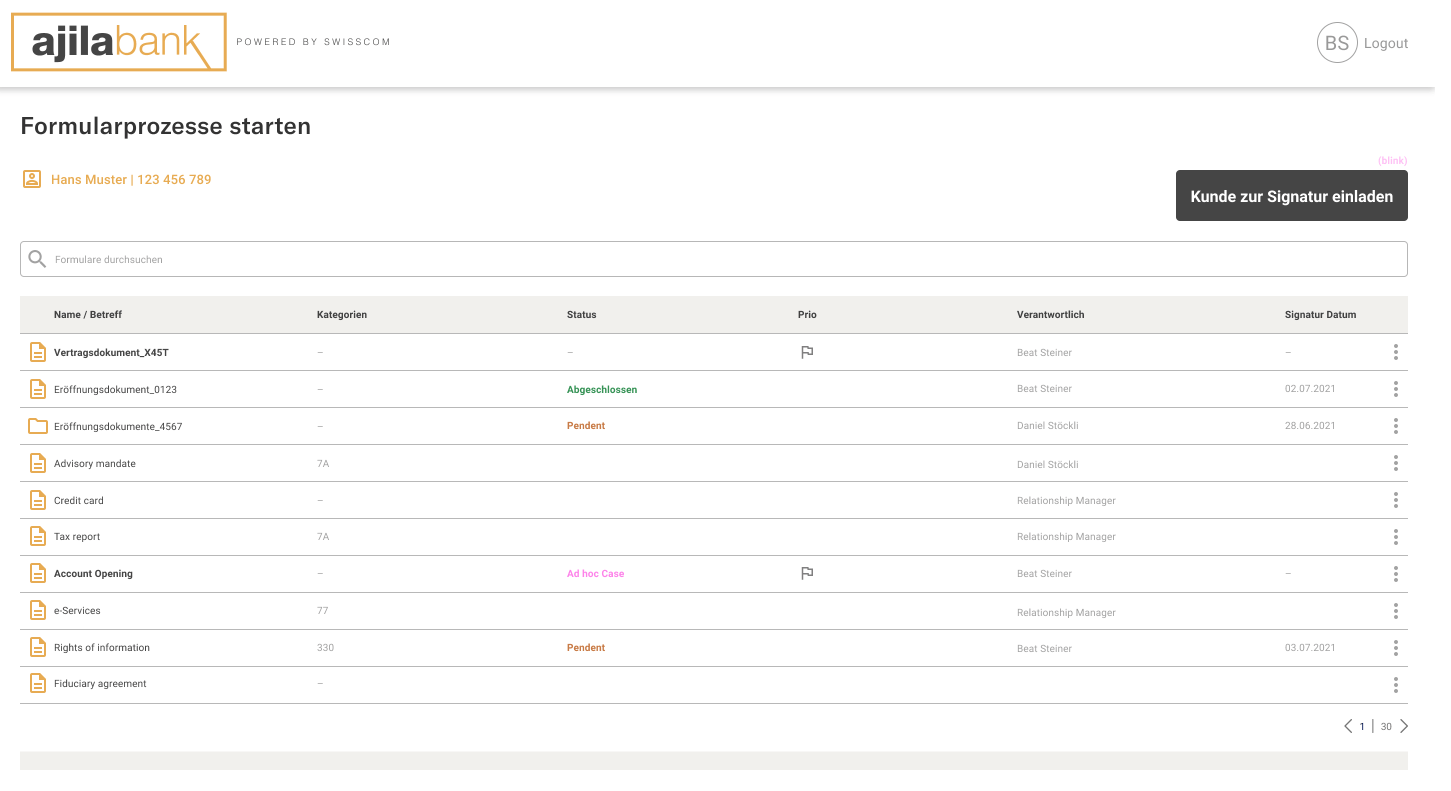 Intelligent form processes for flawless data recording
The customer advisor in a client meeting or the customer directly in self-service receives an intuitive form experience thanks to form processes that display only the information relevant to the required business case, ensure the quality of the data to be entered and, if desired, compare it directly with a data source. And all of this is digital and customer-focused.
Use cases: Lead generation, mortgage calculators, account contract creation and many more.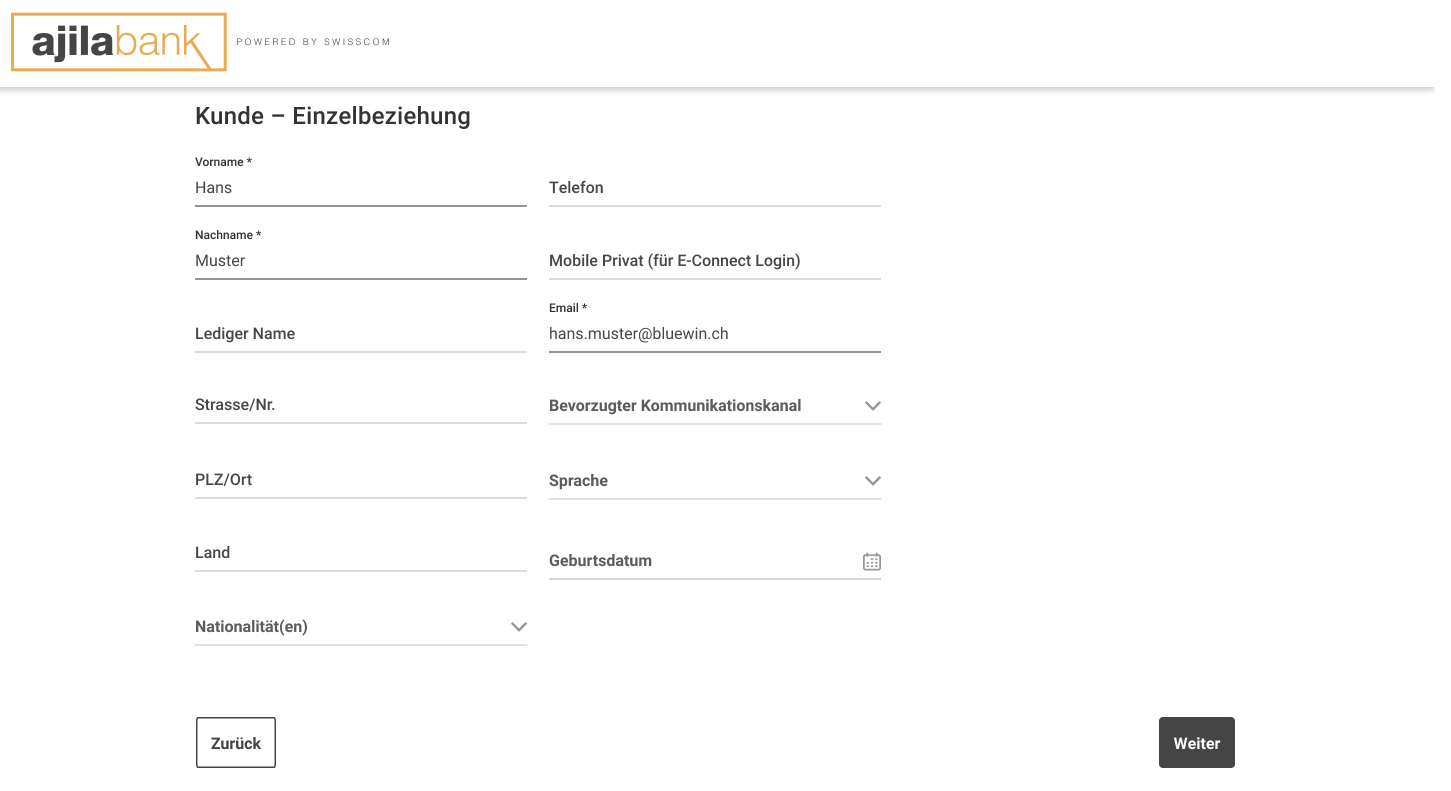 All relevant contracts automatically generated
Based on the data recorded in the intelligent forms, the required contract documents are prepared automatically. This ensures that only the relevant content is mapped in the contracts. The contract modules required for this can also be managed with our Forms Factory. A customer dossier created in this way can consist of one or more required contract documents.
The right certificate of will for your contract documents
Now that all contract documents have been created, the correct certification of wills is required. We integrate all relevant signature levels such as the simple, advanced or qualified electronic signature so that the contract process can be handled completely digitally. However, if certain customers still require a physical signature on the documents, the contracts are made available for download and, if required, barcodes are integrated for subsequent scanning of the data.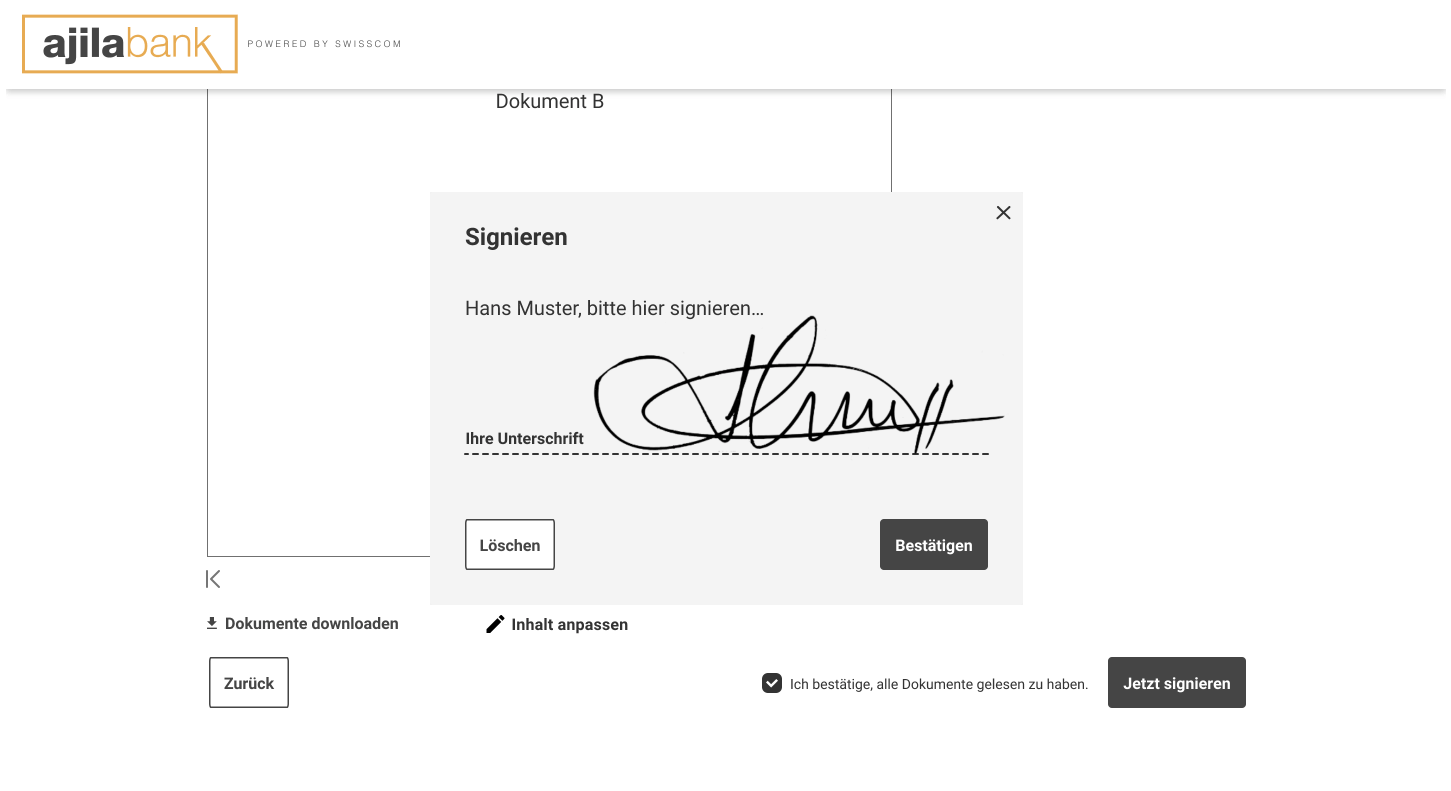 What else can be implemented with ajila's form modules?
We have already implemented extensive digital form processes for numerous customers since 2003. Among other things, our form modules can be used to implement business processes such as the following:
Digitalization in the financial services sector
Your customers open accounts, order new credit cards, take out mortgages. The list of forms you use as a financial service provider is very long. Increase your efficiency and the online experience of your customers by simplifying and digitizing the form processes.
Our ajila Forms Hub for financial service providers offers you extensive advantages
Scaling thanks to central form modules
Thanks to the large selection of existing modules such as data pickers, map integrations, payment connections or digital signatures, we provide the right form library for your project. No matter how many digital forms are to be mapped, we always use the same form building blocks and thus ensure the scaling effect. The form components can be implemented and integrated optimally to your design and website requirements.
Useful if: You have a large number of forms with recurring elements that you want to maintain centrally.
Create forms once for all devices
With many PDF-based forms (writable or static), the problem is that form users with certain devices cannot complete documents, or can only do so with difficulty. Our form processes are built to be optimized for all devices and provide an optimal customer experience.
Use cases: Anywhere where there are still many PDF documents in use and your stakeholders can no longer fill out the forms with mobile devices.
Input - Form process - Output
We integrate your specialist systems for data prepopulation into your form-based processes using state-of-the-art interface technology (REST API). In addition, we connect relevant web services such as address services and hand over the created and, if required, digitally signed documents as well as the collected data back to your relevant output channels. As a result, you gain efficiency, increase data quality, and avoid unnecessary and time-consuming double data entry.
Use cases: Lead generation, mortgage calculators, account contract generation.
Captured data directly into PDF
The data is integrated at the place provided in the document - automatically and without manual intervention. This prevents input errors and ensures high data quality.
Logic for contracts
Generated documents are compiled as needed according to predefined logic. For example, different GTCs are used depending on the selection in the form. This automatically generates the contract documents relevant for the selected use case.
Which digital signature would you like?
The requirements for the electronic authentication of wills by means of digital signatures are complex. Depending on the process, a different signature level is required to meet the needs from a business and legal perspective. ajila is happy to assist you in designing the correct signature type - be it the integration of a signature image, a time stamp, a company certificate or a simple, advanced or qualified signature.
Everything for your digital financial processes
Further form processes of financial service providers which we were allowed to implement and accompany.
Are you curious what type of customer projects we implemented in practice?
We're happy to show you a few customer examples: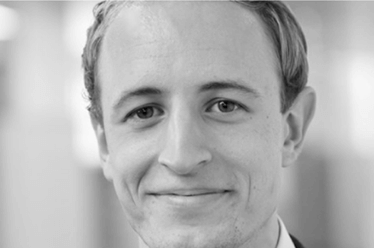 Raphael Bättig

Chief Marketing Officer | Consulting
Centralstrasse 8b
CH-6210 Sursee
T +41 41 921 97 90 | M +41 76 580 37 31

raphael.baettig@ajila.com
Contact us
Would you like a non-binding and personal consultation or do you have any questions?
We are here for you and look forward to hearing from you!