Signing with blink is as simple as this
1

Start a signature process without having to create an account first.

2

Upload the PDF document to blink. Your data will remain in Switzerland and will be deleted after successful completion of the signature process.

3

Decide with which electronic signature you want to sign and invite the desired people.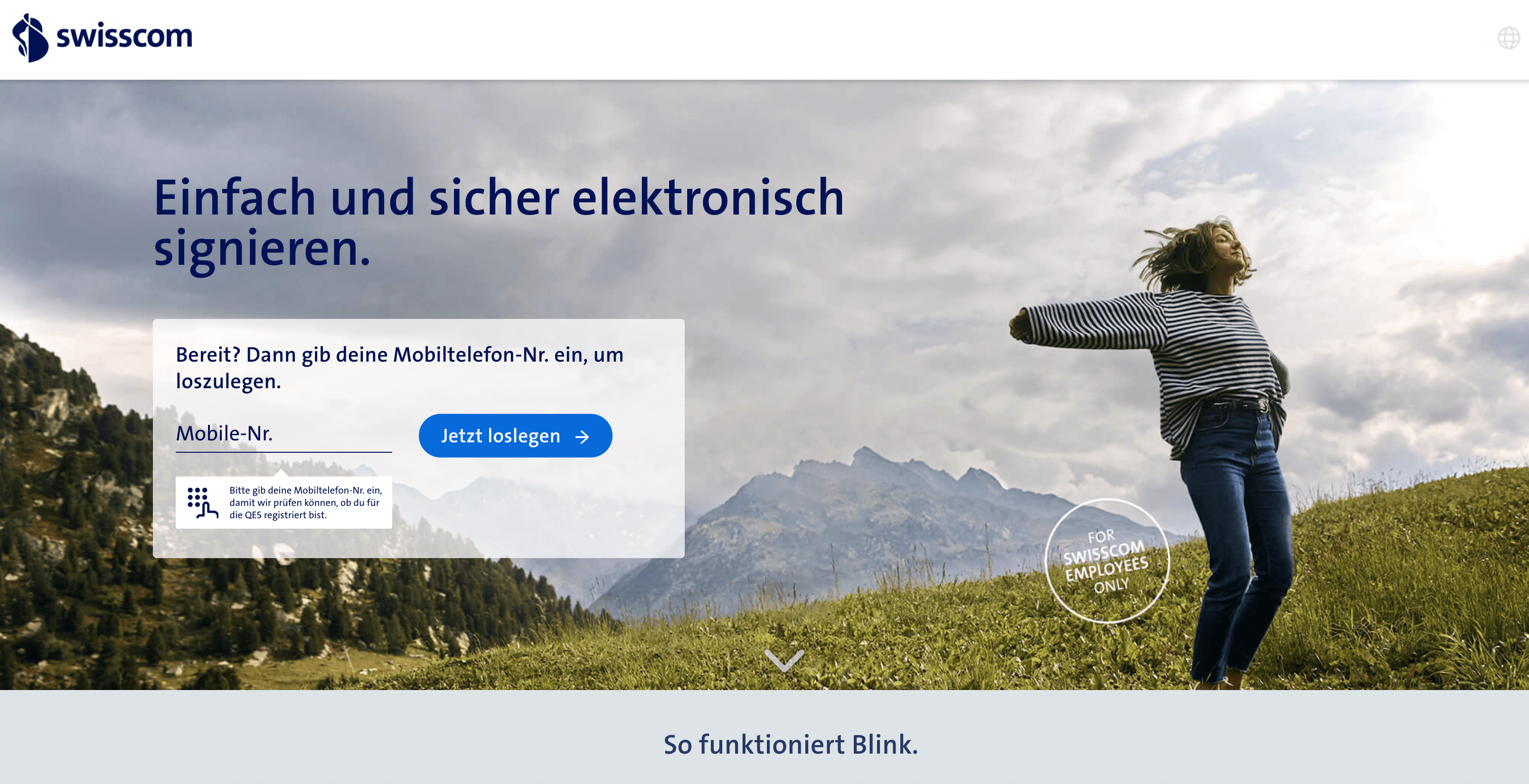 Individual look and feel of the solution adapted to your corporate design
Sign flexible with simple, advanced or qualified signatures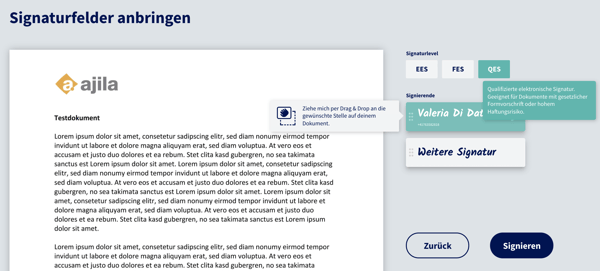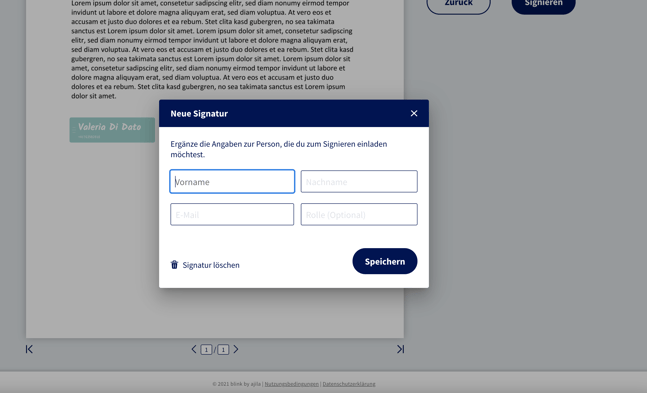 Easily invite people to sign via email workflow without requiring them to create an account.
Your data and signed data will be processed exclusively in Switzerland for the signature processes, made available for download after successful completion of the contracts and subsequently deleted.
Start the signature process directly from your form processes
"We like the simplicity and functionality of Blink. We have been driving the digitization and automation of our processes in our company for some time now. Another building block in this effort is the electronic signature, which allows us to avoid media discontinuity and produce less paper. We are happy to pass on the experience we have gained to our customers."
Josef Muri, Partner
XWare GmbH
"I like the tool very much. I have had to print out hundreds of contracts during my career at Swisscom, sign them and send them by mail to the customer and to the archive. In the Corona days, I often went to the office on Sunday evenings and printed and mailed. Now that that has come to an end, I'm mega happy. It's a real relief."
Swisscom (Schweiz) AG
Frequently asked questions about blink and electronic signatures
What is a qualified electronic signature (QES)?
According to Art. 14 para. 2bis of the Swiss Code of Obligations (OR; SR 220), the qualified electronic signature (QES) is equivalent to the handwritten signature. The QES can therefore be used to legally sign all documents that were previously signed by hand.
How can I sign qualified?
To activate the qualified signature, a one-time personal identification is required. This can currently be done by trained employees (RA agents) and in selected Swisscom stores. For the confirmation of the signature in the Blink process, you need a Mobile ID. You can activate it here: https://www.mobileid.ch/de
How does the signature work from a technical point of view?
As a certified trust service provider, Swisscom creates a new electronic certificate with a cryptographic key pair for each signature process. The certificate is an attestation that assigns the public key of the asymmetric cryptographic key pair to you. Only you have the activation data with which you can use the private key using an authentication method associated with your identity (e.g. Mobile ID or SMS authentication method). As soon as you enter the activation data after a corresponding request, Swisscom creates the qualified electronic signature for you, which is used with blink.
Does Blink work with any browser?
Internet Explorer is not supported. All other browsers work.
Can I use Blink on my cell phone?
Accessing business documents and positioning the visual signature on the document works much better on the desktop computer than on the cell phone. That's why Blink is optimized for the desktop computer.
Do I have to register for the Blink service?
Blink does not require a login. In the first step, you enter your mobile number. Blink checks whether it is already activated for the qualified signature. If not, a one-time identification procedure and the activation of the mobile ID is necessary.
Which documents can be signed electronically?
According to Art. 14 para. 2bis of the Swiss Code of Obligations (OR; SR 220), the qualified electronic signature (QES) is equivalent to the handwritten signature. This means that all documents that were previously signed by hand can be legally signed.
Will the documents I sign electronically be stored at Blink?
Uploaded documents on Blink are only encrypted and stored in the Swiss cloud for as long as is necessary for the signature process. After successful completion or after the set period for a signature process has expired, the data is deleted again. Therefore, it is important that you download and save your document after completing the signature process on Blink.
How is the data I enter stored at Blink?
Blink does not store any data permanently, but only for as long as is necessary for the signature process. The data is encrypted and stored in the Swiss cloud. For the signature, your mobile number is checked and an electronic signature is created via Swisscom Trust Services. Once the process is complete, the data is deleted
Where does the customer or contractor see that I signed the document electronically?
On Blink, you place a visual electronic signature on your document in the second step. This contains your name and the confirmation that it is a qualified electronic signature based on an electronic certificate created by Swisscom.
My customer doubts the validity of the electronic signature or wants more information. Is there documentation that can be sent to him?
The customer does not want to sign electronically. Can he print out the document and sign it by hand?
Yes and No. Of course, your counterparty can print out the document and sign it by hand. However, both documents must be kept afterwards, because a printed copy is not sufficient for a possible verification of your electronic signature. This means that you need a copy with your original electronic signature (and the associated intact certificate), and a copy with the handwritten signature of the other party. Thus, the printout of your counterparty ultimately generates more effort.
I have received a document that already contains a handwritten signature. Can I now sign it electronically?
Yes, your signature can be added to the PDF via Blink.
How can the authenticity of an electronic signature be verified?
Decisive for the validation of the qualified electronic signature is the official validator of the Confederation, which can be used free of charge: https://www.e-service.admin.ch/validator/upload/all/de
A customer would also like to use Blink or introduce it to their organization. Is this possible?
Yes. Blink can be implemented at any organization. The employees of Ajila AG, a subsidiary of Swisscom, are available for this purpose: https://www.ajila.com/kontakt/
I have been identified before. Yet I can't sign digitally today. What are the possible reasons?
There can be several reasons for this:
The identification document with which you identified yourself is no longer valid. ACTION: Have yourself identified again with a new and valid ID document.
Your Mobile ID is no longer valid. ACTION: Check Mobile ID status on https://www.mobileid.ch/de/login Mobile ID. If Mobile ID is inactive, Mobile ID must be activated first. If Mobile ID is renewed (new SIM), physical identification must be done again.
All-in-Signing terms and conditions were not accepted. These were sent to all users via SMS. ACTION: Have the user identified again and accept the AGBs afterwards. AGBs must be signed within 15 days, if you do not do this, your identification will be deleted and a re-identification must be done.
You have a new mobile phone number. ACTION: Re-identify, because identification is linked to mobile number.
Your SIM card has been ported. ACTION: Identify again.
The identification at that time was done by video identification. Video identification was valid only during COVID-19 imd temporarily. A new identification is necessary.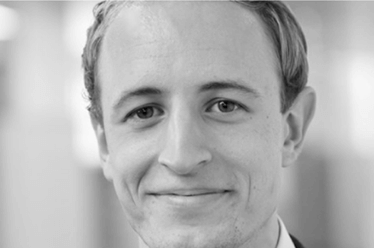 Raphael Bättig

Chief Marketing Officer | Consulting
Centralstrasse 8b
CH-6210 Sursee
T +41 41 921 97 90 | M +41 76 580 37 31

raphael.baettig@ajila.com
Contact us
Would you like a non-binding and personal consultation or do you have any questions?
We are here for you and look forward to hearing from you!